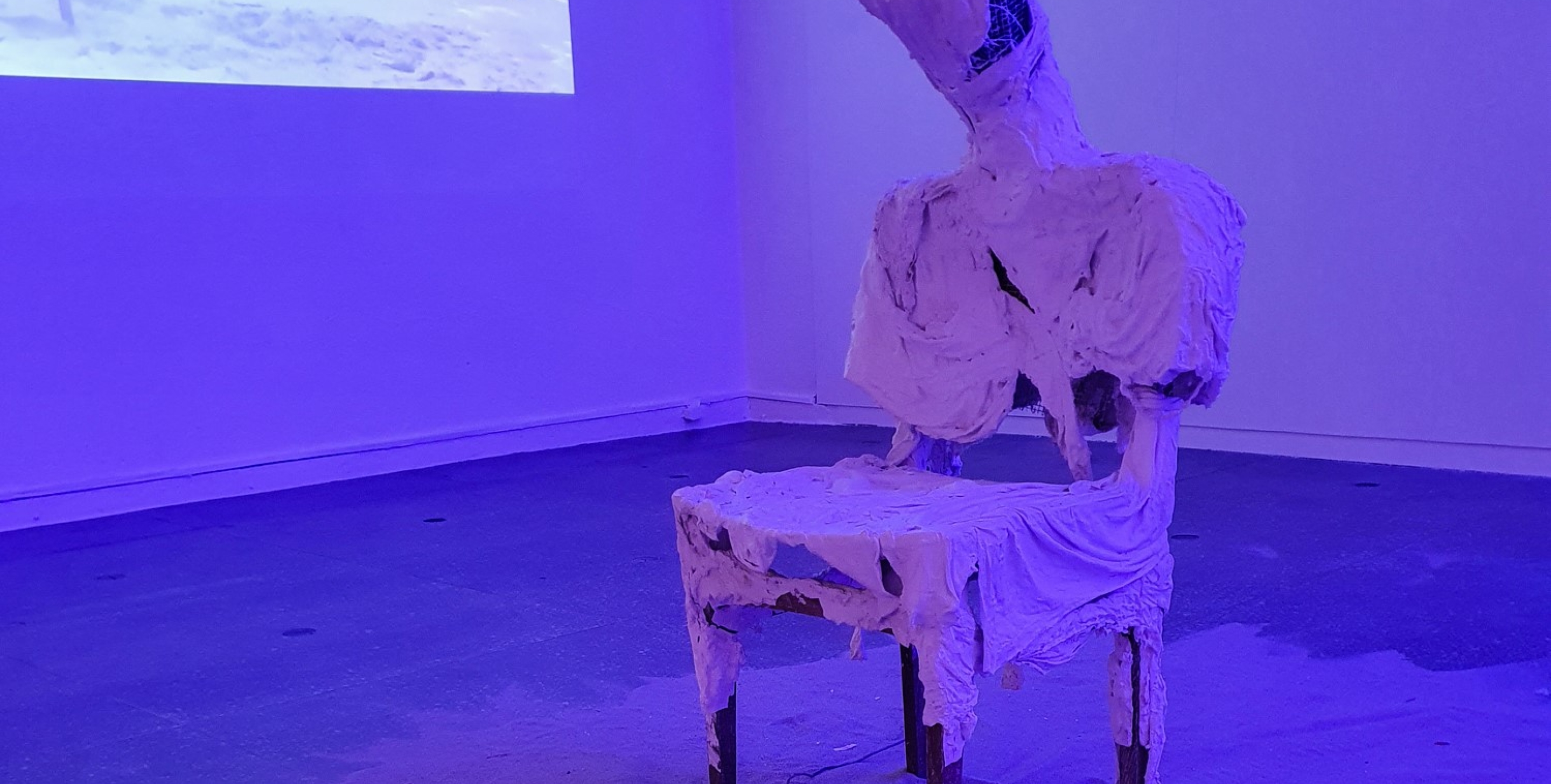 SWEET DREAMS FOUNDATION
Kaunas Picture Gallery
Kaunas Picture Gallery
During the war in Ukraine, exhibition curator Lesia Kulchynska invited artists to show the current state of uncertainty with their works. The exhibition was developed for the Nida Art Colony (NAC) of the Vilnius Academy of Arts in 2022 and on view in Nida July 16 - October 16. M. K. Čiurlionis National Museum of Art, expressing support for Ukraine took over the exhibition from NAC and adapted it as a new iteration to the spaces of the Picture Gallery. 
Participating artists: Yana Bachynska, Dasha Chechushkova, Fattucchiere (Marta Margnetti and Giada Olivotto), Agnė Juodvalkytė, Borys Kashapov, Mila Kostiana, Natasha Kushnir, Zoya Laktionova, Marta Margnetti, Daniela Palimariu, Christian Raduta, Kseniia Shcherbakova, and Anna Sorokovaya.
Very close to this serene place there is a war happening. War is a source of instability, unpredictability, and precariousness. During war, the future is only to guess or to pray for, not to rely on. Planning, which is an option for "normal life" with a clear perspective, is irrelevant during uncertain times. What other strategies do we have to relate to the future, and to handle the present?
Let's suppose that we are stuck in a transitory state. Whatever we experience now, it is temporary. The rules of the state of emergency are temporary. The decisions made under a state of emergency are temporary. Those of us who left their homes and settled elsewhere are there on a temporary basis. The tremendous support that we are receiving and giving each other is temporary. How do we settle in this interim space? How do we furnish a home that is a provisional one? What do we dream about while having no foreseeable future?
Too many amazing things are happening there right now under the state of exception. All of a sudden many people have discovered that being lost in unpredictability is a privilege with neither a desired future nor a defined present restraining them. Even if it lasts a day or less, who cares—tomorrow is not guaranteed anyway. Should we discover these opportunities?
When reality is falling apart, dreamers might perceive their own special mission. It is not decided what world we will face after the transition is over. The dreams of the dreamers could be the foundation for it. Let's talk to them.

Exhibition curator: Lesia Kulchynska
Exhibition architect: Saulius Valius
Graphic designers: Mila Kostiana, Jonas Vaikšnoras
Thanks to: Egija Inzule, Luka Jefremovaitė, Dovile Lapinskaitė, Daura Polonskytė, Anton Shramkov
Exhibition at M. K. Čiurlionis National Museum of Art is presented in collaboration with the Nida Art Colony (NAC) of the Vilnius Academy of Arts.
The exhibition at Nida Art Colony (NAC) of the Vilnius Academy of Arts was funded by Lithuanian Council for Culture, the Ukrainian Emergency Art Fund and the Embassy of Switzerland to Latvia, Lithuania and Estonia. The exhibition is funded by Goethe-Institut and incorporated into a comprehensive package of measures for which the Federal Foreign Office provides funding from the 2022 Supplementary Budget to mitigate the effects of the Russian war of aggression against Ukraine.
Photo by Andrej Vasilenko 
Exhibition works: 22 12 2022 – 08 04 2023