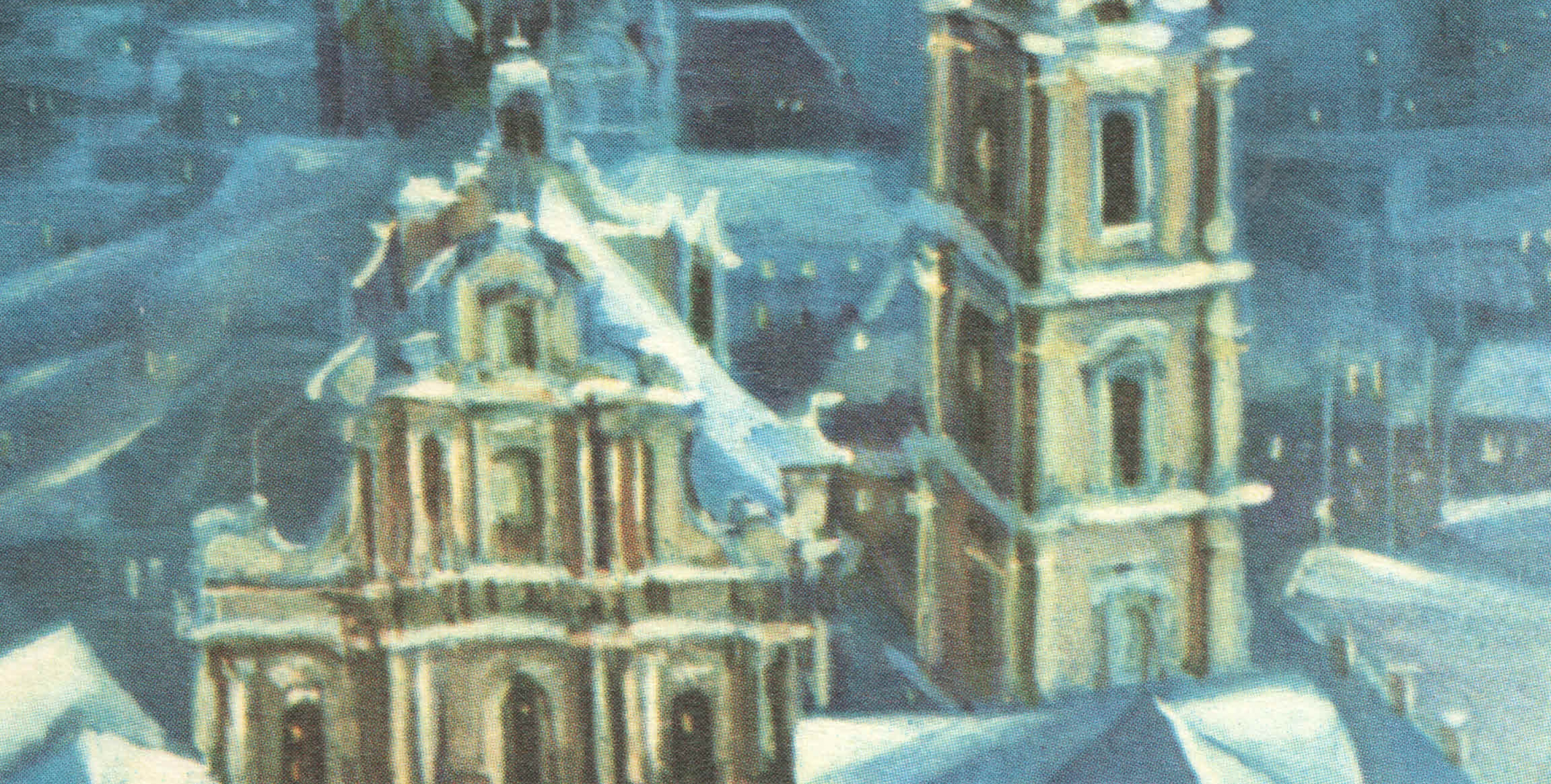 EXHIBITION LITUANIAI NEW YEAR AND CHRISTMAS CARDS PUBLISHED DURING THE SOVIET PERIOD
M. K. Čiurlionis National Museum of Art
M. K. Čiurlionis National Museum of Art
This is a collection of 442 New Year and Christmas cards collected by the art researcher and deltiologist Paulius Andriuškevičius. The aim is not only to show the cards to the public, but also to show how Soviet ideology influenced the creation of cards, and what artistic means were used.
The exhibition features New Year cards (400 items) that were selected according to the following criteria: the period 1953 to 1990 (from the death of Stalin to the restoration of Lithuania's independence); the cards were published by publishing houses of the LSSR; they were designed and photographed by Lithuanians; the texts on the cards (if any) are in Lithuanian.
The collection is also supplemented by 12 New Year cards published in Moscow with Lithuanian texts, seven published by various Soviet organisations, and 23 Christmas cards.
During the Soviet period, the situation with Christmas cards was difficult: they were not allowed by the state publishers; they were usually secretly published by the organizations of the church; the edition was very limited; and on the cards there was no information about the publishers or artists (due to safety reasons – to avoid persecution). Furthermore, Christmas cards were, as well, printed in the USA by the Lithuanian Americans. The word 'Christmas' on the Soviet postcards was first printed on 1988, where the publisher and artists were already mentioned. Interestingly, on 1990, in Moscow, the publishing house of the USSR Ministry of Transport issued 500,000 edition Lithuanian postcard with the note 'Joyful St. Christmas'.
New Year's postcards with various playful characters were painted by such artists as A. Žilys, B. Cvirkienė, B. Leonavičius, G. Aleksandravičienė, J. Gudmonas, G. Bugajeva, K. Kasparavičius, K. Ramonas, L. Skerstonaitė, L. Glinskienė, N. Šaltenytė, V. Panaskovas, V. Černiauskaitė, J. Gelguda, S. Deltuvienė, M. Ladygaitė, M. Juknytė, A. Rubanikas and others.
Various objects were represented on the postcards: St. Anne and St. Bernardine Church Ensemble, Vilnius University and St. John's Church, Vilnius Cathedral, Kaunas City Hall. The most popular object on the postcards was the tower of Gediminas Hill with the LSSR flag raised.
Exclusive postcards were created by photographers: P. Karpavičius, B. Baltrušaitis, R and V. Daineliai, J. Jakimavičius, Z. Kazėnas and others. They photographed the snow-covered forests, spruces, rural farmhouses, various compositions created using spruce branches, pine cones, Christmas toys, burning candles, plush toys, clocks, bells and so on. Fonts were created by A. Gurskas, R. Kungytė, J. Zovė and others.
Exhibition works: 02 12 2021 – 06 02 2022