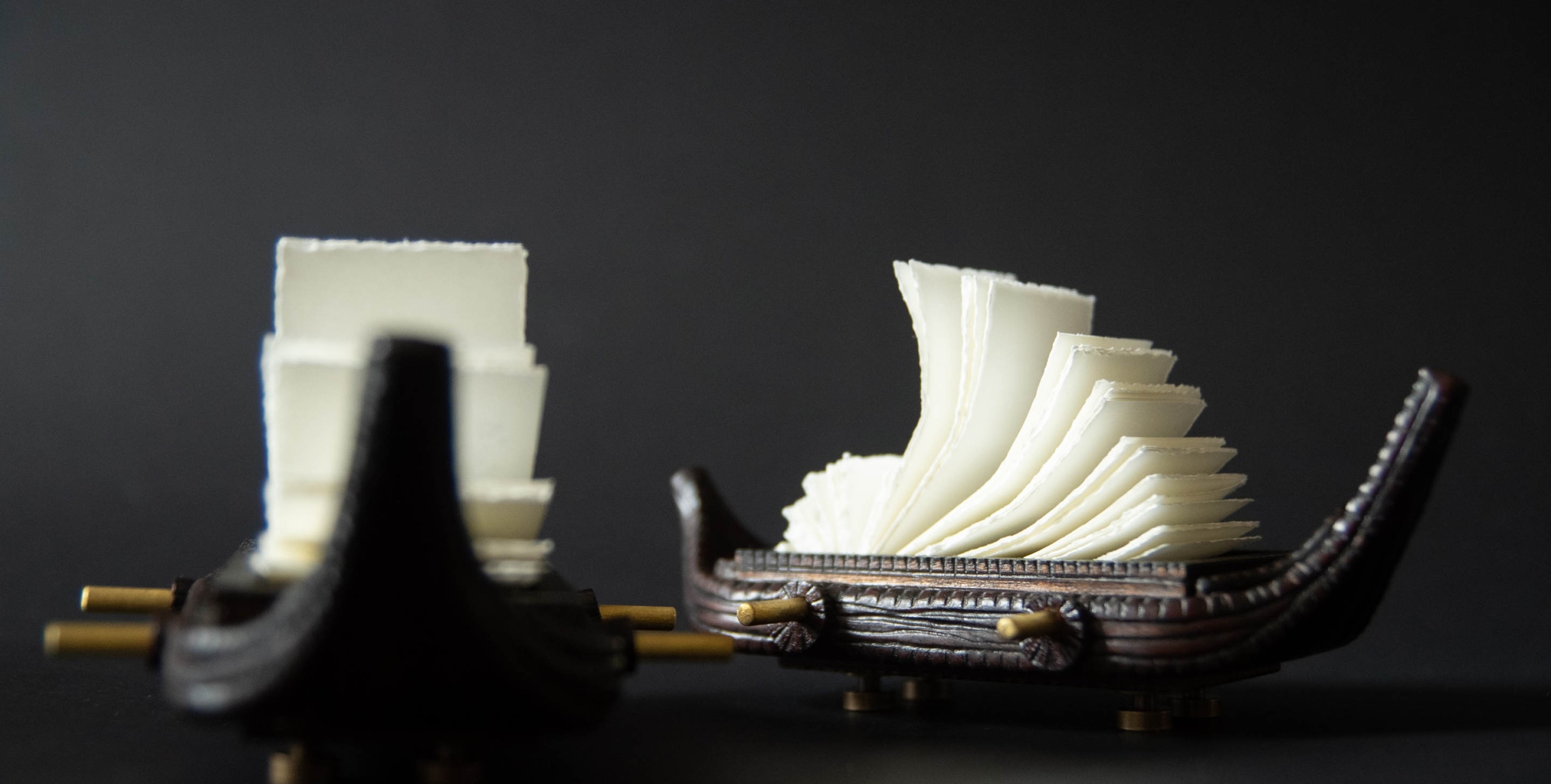 LEONORA KUISIENĖ EXHIBITION "INSPIRED BY POLYMNIA 2023"
M. K. Čiurlionis National Museum of Art
M. K. Čiurlionis National Museum of Art
Opening on 20th of April at 4 p.m.
Artist Leonora Kuisienė is in the main engaged in the creation of conceptual, experimental books, books-objects, books-ideas, which open up the opportunity to immerse in the expression of thought, its fixation, and interpretations that occur in the process of writing. Traditional craftsmanship is equally important. The author has perfectly mastered perhaps all possible techniques of bookbinding and artistic leatherwork, from gilding technique, which is almost no longer applied in Lithuanian bookbinding, an impeccable mastership of leather wrinkling, cutting, tinting, burning, embossing, engraving, other traditional binding methods and various interpretations to the author's personal technique in creating leather sculptures.
"Inspired by Polymnia" is the artist's ninth solo exhibition which continues the project of artistic bookbinding "Tribute to Muses" and is dedicated to commemorate and honour the work of writers living in Lithuania by creating the media for their works. The exhibition features unitary, collectible, artistically bound, autographed books published in editions of only 4 – 6 books. The exhibition will be complemented by books-objects, including an internationally awarded object (the first prize in the artist's book category, USA), one-poem books, cases, rebindings, a series of handmade books having bibliophilic value "Black Lily" (with an edition of only 21 numbered copies), and documentary photographs featuring the authors of the books, meetings with them, and even the moments of their participation in the process of creating the medium.
The aim of the exhibition is to draw attention to Lithuanian authors and their work, to combine contemporary trends of book art with traditional, classical manner; to remind and broaden visitors' perception that a book can be a work of art not only in terms of its content, age, and polygraphy, but also in regard to its cover, its untraditional structure or a technique of binding. The exhibition acquaints with the plasticity and diversity of leather art.
Leonora Kuisienė is the initiator, publisher, binder and illustrator of her books-objects which are published at her own expense and supported by her family. In recent three years, 12 books by 10 authors have been edited. A total of 63 registered book units have been bound. The exhibition shows more than 40 books and book-objects (including 30 unitary-edition books).
Art Historian Vilma Kilinskienė
Exhibition Organiser: M. K. Čiurlionis National Museum of Art 
Curators: Silvija Burokaitė, Violeta Karmalavičienė
Graphic Design: Jonas Vaikšnoras
The exhibition is open: 20 04 2023 – 18 06 2023