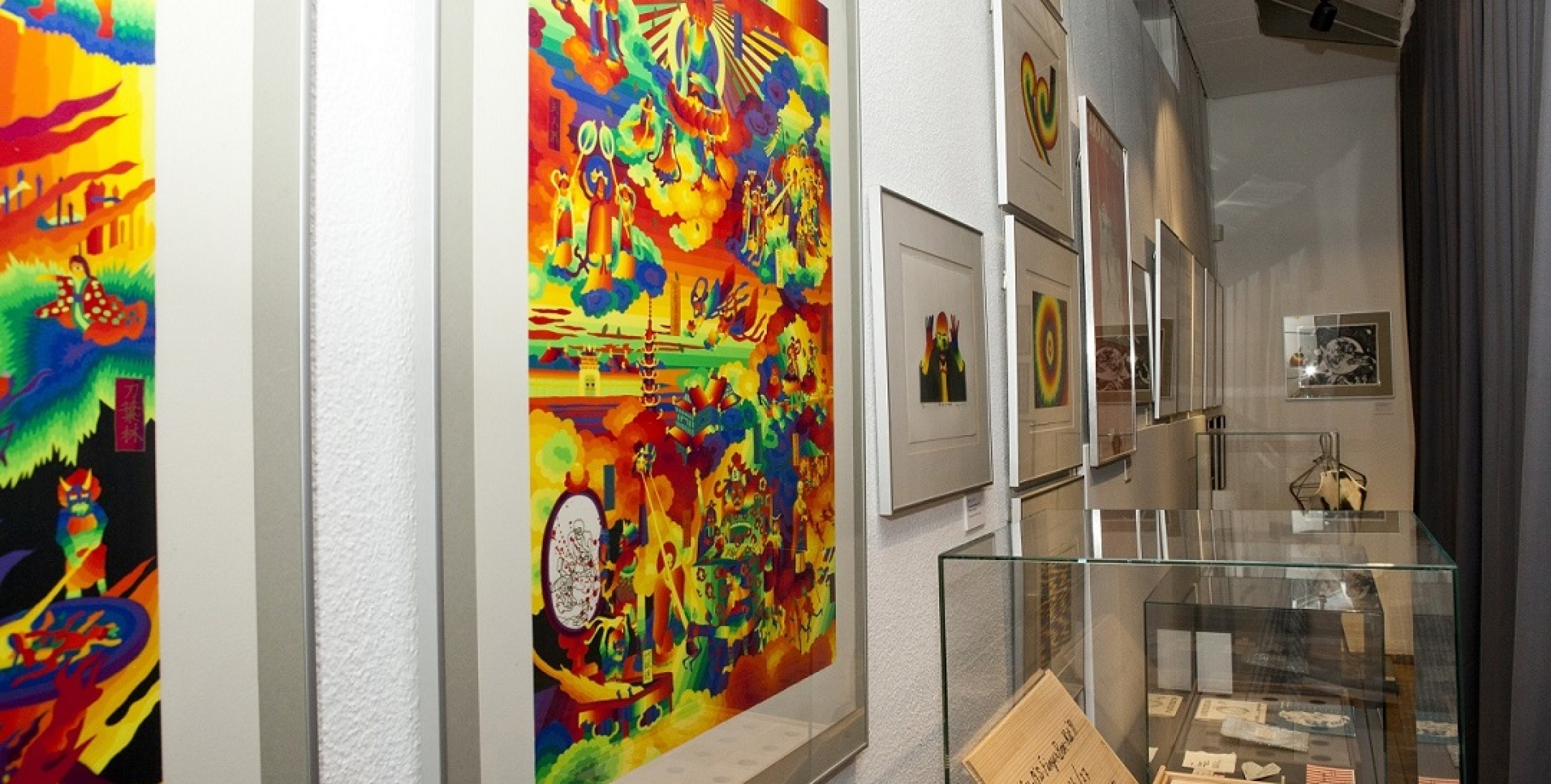 George Maciunas' Fluxus Room
Kaunas Picture Gallery
Kaunas Picture Gallery
The FLUXUS room of Jurgis Mačiūnas was opened on 16 February 1999 at Kaunas Picture Gallery (K. Donelaičio st.16). The cabinet introduces the life and activity of Jurgis Mačiūnas – a founder, ideological leader, and principal coordinator of FLUXUS. Being continually supplemented with new objects, the exhibition concentrates on different points of the movement.
Jurgis Mačiūnas (George Maciunas) was born on 8 November 1931 in Kaunas.
FLUXUS emerged in 1961–1962. First and foremost, FLUXUS manifested itself as a destructive focus directed towards the "bourgeois" aesthetics and formalism. Its actions essentially contradicted the principles of academism in art. Pursuits in demolishing the fine arts and the self-diversion to an object of art as a non-functional unit were being accomplished by means of short, concrete works, minimal music, provocative actions, conceptual "task cards", and ambiguous humour.
FLUXUS had basically affected the development or even gave a start to conceptual art. In the main, the post and political art, mass production, minimalism, alternative music, performances describe the principles of this phenomenal movement.
Jurgis Mačiūnas consolidated FLUXUS, wrote manifests, organized concerts, prepared, produced, and promoted various articles and publications.
Vytautas Landsbergis, who knew Jurgis Mačiūnas and communicated with him, notes that the inspirer of FLUXUS and the members of this movement represented the mode of unconventional response and thinking, which stand in contrast to the routine life and actions. Jurgis Mačiūnas also stated that "the FLUXUS objects bear social (non-aesthetic) character". According to V. Landsbergis, J. Mačiūnas' political "left-wing" coincides with the afore-mentioned resistance to a routine and therefore also to the established state and government.
Jurgis Mačiūnas believed that the FLUXUS movement should act as an educational factor, i.e, to illustrate that any object or matter can be referred to as art, that art is accessible to everyone, and that everyone can be its master. Art has no commercial or institutional value, art is simple, natural, playful, cheerful, and unpretentious. The soul of FLUXUS was sure that the ideas of the movement should not last forever and will gradually lose their significance.
Jurgis Mačiūnas died on 9 May 1978 in Boston, USA. Consequently, FLUXUS ceased functioning as a movement – although a few artists still continued.
test papildoma info