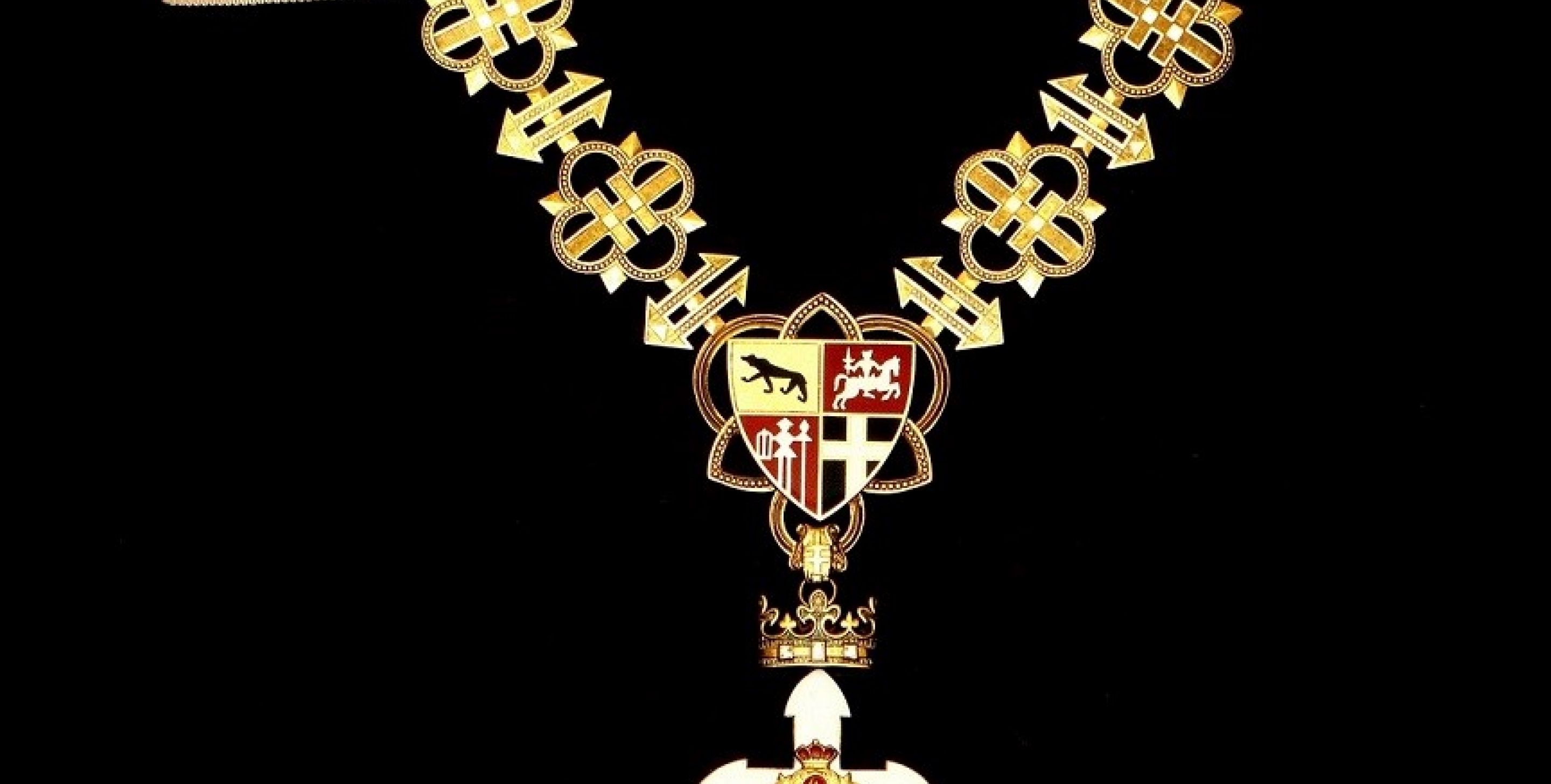 "REDDE QUOD DEBES: STATE AWARDS OF THE REPUBLIC OF LITHUANIA. 1920–1940"
Historical Presidential Palace of the Republic of Lithuania
Historical Presidential Palace of the Republic of Lithuania
The exhibition presents the most important State Orders and Awards protected from damage and saved at the M. K. Čiurlionis National Museum of Art.
The system of State awards of the Republic of Lithuania was structured gradually, each time reflecting the political situation of a young state. Above all, the award of distinction on the fronts – the Order of the Vytis Cross (1919) was adopted, later – the Order of Grand Duke Gediminas (1928) and the Order of Vytautas the Great (1930), the latter becoming the most significant State award. In 1930, when passing the Law of the Republic of Lithuania on Orders, Medals, and other Decorations, the system of awards was legitimated. Alongside the three most important orders, eight national medals and other distinguishing marks were instituted: the Vytis Cross, Flag of the Vytis Cross Order, Medal of Vytautas the Great Order, Medal of Grand Duke Gediminas Order, Medal of Volunteers-Founders of Lithuanian Army, Medal of Lithuanian Independence, Life-Saving Cross, and Home Guard Star. In 1940, the last State award of the Republic of Lithuania was established – Medal of the Pioneer of the Army.
After Lithuania's occupation in 1940, some of the property of State institutions was transferred to museums. In May 1941, Pijus Bielskus, Chancellor of the Orders of the President's Office under liquidation, following the order of a secretary of the Supreme Council of LSSR Stasys Pupeikis, handed over to the museum the Chains of the Order of Vytautas the Great, Orders and Medals of Vytautas the Great, Orders and Medals of GDL Gediminas, Orders of the Vytis Cross (old and new issues), Medals of the 10th Anniversary of Independence, Medals of Volunteers-Founders, Life-Saving Crosses, Medals of the Anniversary of Vilnius (1323–1923), the manufacture samples and miniatures of the Order of Vytautas the Great, samples of foreign Orders, and Award certificates of Lithuanian Orders – 12,861 items in total. On 13 September 1940, 15 Orders of the Home Guard Star were passed from the Riflemen's Union under liquidation to the Historical Department of the Kaunas State Museum of Culture. Hereby, Orders and Awards of the State of Lithuania which are now displayed in their historic home have been saved from destruction. The exhibition showed the awards at the newly opened Historical Presidential Palace in 2005. However, owing to its uniqueness and special storage conditions, the collection on display for several years has been returned to its 'must-have' storage facilities. These days, it is again available to visitors.